Every journey has a start.
It all began when Vicki purchased a Sky-Watcher 130mm GOTO telescope back in May 2018.
We spotted Vick's first image (below) posted to the Facebook Amateur Astronomy – Telescope, Binocular and Imaging Forum group and were delighted to share it to the Sky-Watcher Australia Facebook page.
A simple photo of the Moon taken with her Samsung Galaxy S6 phone held over the telescope eyepiece. One of the easiest ways to take a photos with a telescope and something many people try. It was also taken on just her second night out with the new telescope.
While holding a phone hand is a great way to get going, there's several different adaptors to securely hold your phone over a telescope eyepiece to improve your photos. These start from as little as $20.
Chatting to Vicki, she was thrilled with the first result and her new hobby. Over the last 18 months she's continued to expand on her skills and techniques with some additions to the equipment along the way.
She switched to using the Huawei P20 for imaging and also spent time learning how to stack images to increase the detail that can be delivered by a camera from a single shot.
After using use her phone camera for some months, Vicki made her next astro imaging purchase – an Altair Altair GPCAM2 290C astronomy camera. Cameras like these and from other suppliers such as ZWO or QHY are designed to actually take a video rather than a single still image. The best frames from the video are combined or "stacked" using software and this helps bring out the finer details in an image.
You should be able to purchase a camera of the same type as the Altair for around $500 in Australia.  (Another popular option is to use a DSRL for astro imaging.)
Dedicated astronomy cameras like Vicki's Altair don't store their images on a memory card in the camera for later downloading like a DSLR.  Images are fed directly to a notebook or PC via a USB cable.  (See notes)
The technique of capturing and then processing a video into a still image can also be applied to some of he brighter deep sky objects as well. Here's one of Vicki's early attempts at the famous Orion Nebula (M 42) and the results with more imaging and experimenting with different software processing.
As she quickly found out, producing high quality astro images from digital cameras of any type requires patience to get the best from your equipment and revealing what's locked away in the the data you capture – but the skills picked up along the way can produce stunning results.  Progress in producing better photos of astro objects can be often quite spectacular.

The next upgrade was a Sky-Watcher HEQ5 Pro mount. This Equatorial or "EQ"mount is more solid and lets the astro camera capture longer exposures.
This new Sky-Watcher mount enabled Vicki to go after fainter and more challenging astro objects like galaxies and fainter planetary nebula – still with her original Sky-Watcher 130mm telescope and the Altair camera. Vicki continues to regularly post updates and improvements she make and is always eager to share what she's learned: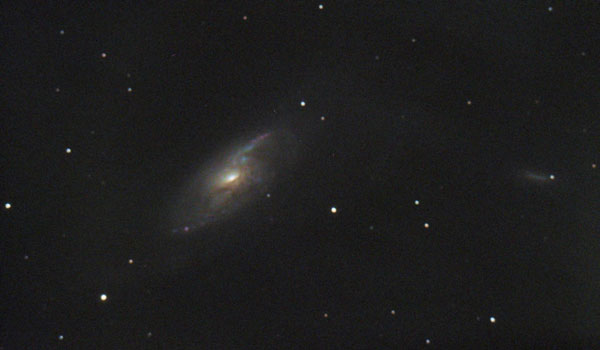 We wish Vicki the best of luck and look forward to seeing what she does next. As she posted:
"I think it's so important in this hobby to emphasise, especially to newer members, that it's not all about expensive kit to be able to achieve your goals. Everyone has something different so what you need to learn to do is use your equipment to the very best of your ability. It'll be frustrating (oh yes it will!) along the way but with every try you will take something from it to better the next. Keep trying, keep asking questions and above all, don't compare your work to others because it's YOUR journey and you'll set your own pace, just enjoy it. It's the most rewarding hobby I've ever had and it's so much fun. I started out with my phone to take pictures of the moon through the eyepiece before I moved on to an astro cam. There are all levels of expertise here so please don't be shy, others can also learn from your questions and discussions"
Some notes:
All images were taken by Vicki using the same telescope – a 130mm (5″) Sky-Watcher reflector and they show her progress in taking astro photos in just over a year. The same type of telescope is available for around $699 in Australia.
From the first image of the Moon to the images of  the Orion Nebula (M 42) and the galaxy photos what changed were the telescope mount and camera.
Vicki captured the images from her Altair camera using a notebook. There's other devices like the new ZWO ASIAir or StellarMate that allow the images to be stored without needing a PC or notebook.
Yes, these images have been edited and they are not what you will see with your eye through the telescope eyepiece. They are the result of combining images captured by the camera using software to create a long exposure photo that shows details and colours too faint for your eye to see.  Using modern imaging hardware and with developments in software, amateur astronomers can produce photograph of astro objects that sometimes rival the best professional astronomical photos that could be produced only a few decades ago.
Did you know the first long exposure astronomical photos that showed details too faint for the eye to see were taken about 140 years ago!